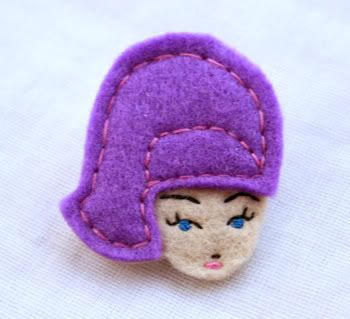 I went and checked out the NMIT Jewellery Exhibition at Northcote Town Hall yesterday and it is well worth a look. I wasn't sure what to expect because it was a student show, but the quality and workmanship was of a very high standard. Because I have no idea how any of it is made it always seems extra special. I remember looking in Dan's jewellery studio earlier in the year and it was full of all these odd contraptions that looked like they were from a '60s sci-fi film. I'm not sure if they are standard for jewellers but it certainly added to the mistique. The show is on till the 20th of November and is open till 6pm, for more info you can check the
myspace page
.
I also had a look at
Bridget
's exhibition at Australian Print Workshop. This one is on till December, so you have plenty of time to go and it is also well worth it and I feel a bit of a connection to the work because we drew the birds together at the Museum. Bridget is having a
giveaway on her blog
for one of her beautiful felt bird brooches. I have one and think it is perfect and they are great for gifts for Christmas as well so one to keep in mind.
The next week is jam packed full of markets. On Saturday I will be at
Rose Street
and on Sunday I will be at the
Spiegeltent Market
and the
Makers' Market
at the Abbotsford Convent. Well I wont technically be at both, but my stuff will be. Next Wednesday I'm doing the
Sandringham Village Twilight Craft Market
and I'm looking forward to this one because it is near the water and also near my house. If you're nearby come by and say hello.
Oh and remember to check out the
Able and Game
blog for your daily dose of romance!