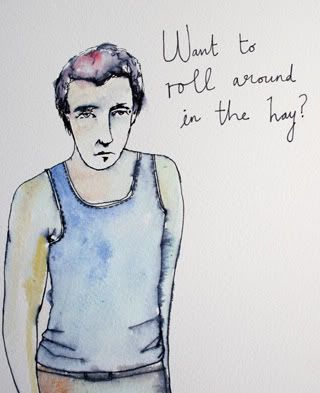 I know it is super early to be thinking about Valentine's Day cards, but I've been thinking about them for months now. After making them up this year I thought I might get some printed up for next year. They are kind of like the male version of my lady badges. Dorky men making big statements of love, or in this case, how they plan on romancing you. I've had roll in the hay idea in my head for a while and the trip back to the country over the weekend inspired me to get the ball rolling by putting pen and brush to paper. I just noticed the thing going on with his lip, he kind of has a snarl to him which reminds me a bit of Elvis before he ate all the cheeseburgers.
I got to go along to Brown Owls tonight and make some badges with

Gemma

Jones on the

Tecre

badge machine. It made the Hello Kitty badge maker I got off

ebay

in 2005 look like two busted bike wheels on the ground compared to a

Porsche

or some other

wizz

bang car. Don't be tempted by the $60 badge maker people, they are rubbish! I made four badges and I will post some pics of them tomorrow. It was great fun to have a chat to all the crafty ladies, although

every time

I spoke to people I had a very chewy

mintie

in my mouth so I probably sounded a little odd.