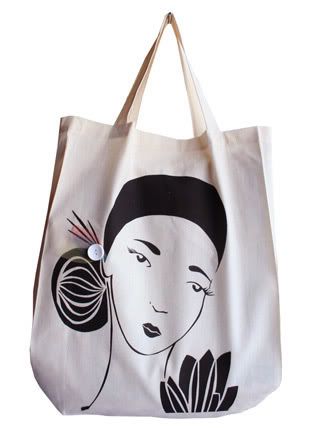 I printed up some more shopping bags today with a new design. I usually stay away from faces because it is hard to cut them out from paper. I usually end up cutting the wrong section away so the ink becomes the skin area and it just doesn't work out that well. I started doing some sketches and realised it might work okay if the face is a little bigger. Once I realised it would actually be quite an easy stencil to cut I got going on making it up.
Once I started printing I realise it was too big so had to cut the bottom off, but this still looked okay. I added a little detail to the hair on this bag with some button and tulle in red, yellow and blue. It was going to be some earrings, but it looked better in the hair. I made 10 bags and was going to have something different on all of them.
Below are some of my drawings I did to get an idea of the size on the bag and how it would all look. The big bun to the side was something I wanted to include, a little like the
badge ladies
. I've started sketching on loose card as it is perfect for putting into the scanner, my bulky sketchbooks were really annoying as it was hard to get paper flat. I need to get one of those sketchbooks that open flat I think.

The first bag shown here is for sale on Etsy.