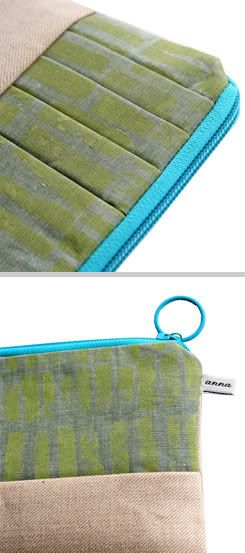 I went along to
Brown Owls
last night and got to learn all about fabric stamping. I had a go at it once before but wasn't very impressed with my results. This time with some good instructions it seemed to work better. The thing I was most impressed with was Kirsty's ingenious use of a CD case as the backing for the foam because it means you don't have any problems with registration.

I ended up doing a pretty basic pattern, just lots of rectangles repeated over and over.
I made part of the fabric into a little clutch today. The fabric we had was my favourite type of dual weave and I used a green colour for my ink. I made my colour up for the calico bag not for this fabric, but in the end I like the colours being quite similar.
The
ladies
at
Brown
Owls
are very clever and the whole environment is great. Last time I went I had such a ball and it is nice to meet other people and make things at the same time. There is some pictures from last night over at
Flickr
and the designs everyone else came up with were really beautiful.
How cute are these little pins? I was looking at
Hollie's resin jewellery
at Rose Street and said how kittens would be a good addition. Anyway look what she has made up two days later. Very clever! Plus I also got to watch some
Sarah Silverman
courtesy of Hollie last night although she did give me a funny look when I said she was in an
episode of Star Trek
. Check out her super smart kitten Macey hiding from the rain.