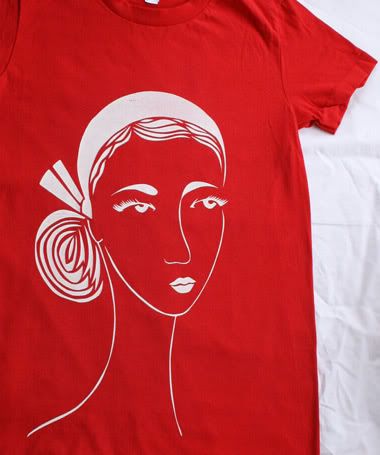 I needed to print up the other six shirts I had to take along to Rose Street. I had been putting off printing them because I didn't know what to do for the prints. After reading the comments on Flickr from my print yesterday and Green Olive's suggestion that they would look good on t-shirts I cut out another stencil and printed them up.
I like the way the hair/fringe turned out and I'm still trying to work out if I like the colour combo with this image. White on red is one of my favourites, but with a face I'm not sure how well it works compared to other prints. I think it is the white lips looking strange because you don't see them very often.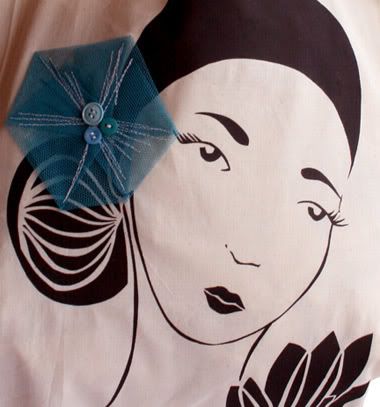 Here is another of the bags from yesterday. They are in an edition of 9 (the 10th is mine due to a mishap with the scissors) and each has a different embellishment on it. This one has a blue tulle and button accessory in her hair. I'm not sure if tulle is something that some people turn their noses up at but it is one of my favourites. I love when you have a large piece of it and the colours look darker where it overlaps.
I am wondering if it is one of those things like glitter, which according to Dimitri Martin is the herpes of craft supplies. I loathe glitter, a hatred that stems from my secondary teaching experience. Kids love glitter and the seem to go insane crazy when they get the slightest whiff of it. It seems the only thing they can ever successfully do with it is empty containers of it on the table and floor, maybe with a small puddle of PVA in the middle. I remember seeing a show on the ABC (via the BBC) about people with phobias and one woman was scared of glitter. I wouldn't mind betting she was once an art teacher.