I've been coming up with some designs to screenprint onto fabric as a pattern rather than a one off design. At the moment I come up with designs that will go specifically onto a product I make and I still make my stencils from paper. This has some obvious disadvantages but I love the fact that the designs are hand drawn and I think it sets them apart from a lot of the computer aided design out there. I use cartridge paper and more often than not the stencils are able to be kept with the layer of ink strengthening them for the next use.

My only issue with printing larger quantities is the heat treatment of the inks to cure them. I would love to know if there is a place I could go with one of those big heat machines (like the pizza ovens) that I could use. If anyone knows of something in Melbourne please email me, or leave a comment.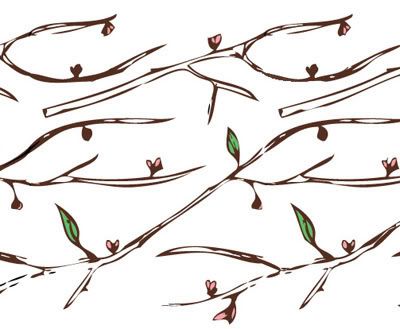 This design is really basic so would suit my handcut design. I like the idea of painting the buds and leaves with fabric ink once it is finished. Definitely inspired by
Danielle's
post on the
Madeit blog
about
Karolina York
and the fabric designs they create.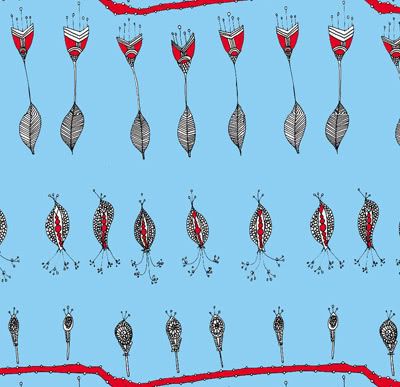 This design has aspects that I really like, but the overall look isn't that great. I love the red and aqua colour combination and just got more aqua fabric today for creating more red prints like
this one
.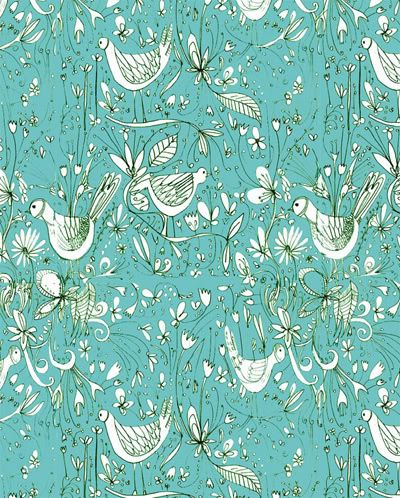 This was created in a mad rush after reading the post by
Julia Rothman
over at
Design Sponge
.
My joins are a little off and the whole thing is rushed and far to busy and chaotic to even think about trying to cut it out from paper but I think there is a little method to the madness.





By the way, if you have not been to the Fifi Lapin blog, go there now. Everytime there is an update I get excited, the drawings are so fantastic and fabulous.