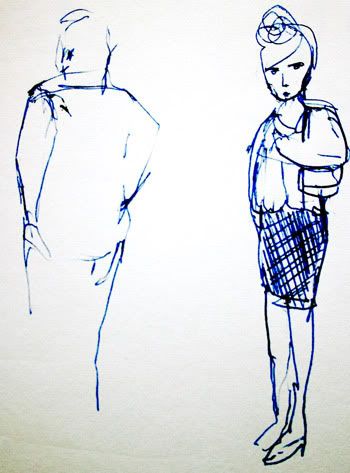 Waiting At The Station (Caulfield)

I was reading someones blog a month or so back and they mentioned the book Drawing From Life: The Journal as Art. I wish I could remember who it was, but I saw the book and went into a bit of a frenzy and ended up at Amazon buying it before I could remember who wrote about it in their blog. The book arrived a few days ago and I was reading through it the other night. My favourite stories so far is one about the 1000 journals project and Renato Umali's tracking system. I don't know why, but the idea of tracking things in your life then looking at the
information on graphs
excites me quite a bit. What I lack is the discipline to do this and would give myself 2 days and after that I would just stop.
Print Ideas

Looking inside sketchbooks is one of my most favourite things, I find the art a lot more interesting when it isn't refined and every idea and thought is in there. Have a look at Lara's blog for some lovely drawings from her sketchbook in her
current post
. I photographed a few drawings in my current sketchbook and put some up on Flickr with a couple in this post. My sketchbooks are a bit of a mess, lots of different ideas and not used as much as I would like.