This is a bag I screenprinted yesterday. I still had some shopping bags I had not used and wanted to make a print for them. I decided to go with the idea of what would be inside the bag and it includes onions, keys, a newspaper, butter, spaghetti, basil, celery, asparagus, carrots and tomato. I was going to do it in black, but I have a tiny bit left, not enough for this print.

I was really wanting to keep the stencil on this one, so didn't do as many prints. The longer you use the stencil, the harder it is to keep because the paper sticks to the screen. In the end it was too hard to get off because most of the paper was too thin and ended up sticking, so I only got 7 prints in the end. I have listed this one on Etsy and will list some others on Made it.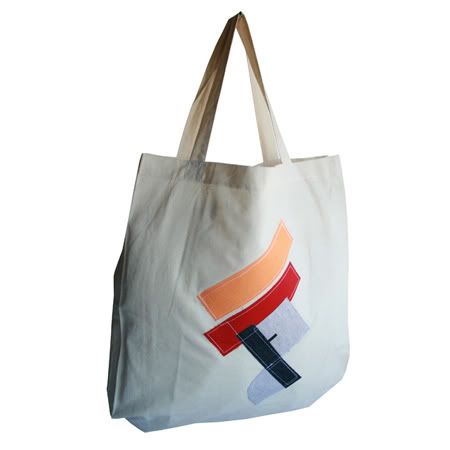 This is one of the fine art shopping bags I made a few weeks ago. I had just got some fusible webbing and decided to do some abstract fabric collage with it, inspired by
Magic Jelly's
A Collage A Day
flickr group. This one is available on
Etsy
, and I have five more I will be listing later in the week.