I had a busy weekend starting with Rose Street on Saturday. I spend a good part of Friday afternoon looking for something to hang the bags from and some picture frames. I didn't have too much success but did come away with some fancy Pierre Cardin shoes that look like they have never been worn. When I got home I realised the white partition my Dad made would work and maybe I didn't really need anything after all.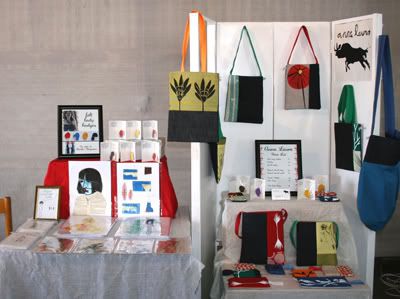 I was worried that it would be much harder at the market because I was on my own. The last five I did before Christmas were with Jodie and having someone with you all day much such a difference. However as soon as I arrived Bridget from
Bridbird
came up and said hello and was quite close by with her friend Hayley just next door. I also got one of Bridget's bird pins which are so beautiful. I didn't know which one to get because they were all so beautiful. In the end I selected the willy wagtail and I'm very happy with my choice. I also suggest having a look at Bridget's
new blog
, I found it on Saturday night and was excited because the drawings are so beautiful.