I went on a walk today to the beach. I was planning on going for the last few days to see how long it took to get there, then someone then posted this on Etsy and I read the first idea and off I went. Once I got to the beach I decided to walk along it to see what was around, mainly very large houses and people out for a run. I walked down to the Brighton Baths to have a look at what the pool was like, but it was pretty hard to see inside and there was a bunch of large men in the way anyway. Once I got home I thought I would have a look at how far I walked on Google Earth using the ruler tool (which is one of my favourite things ever) and worked out it was 11km. No wonder my feet hurt.

I might have to use the Keri Smith ideas more because I'm still feeling a little unmotivated since the move. I've got the machine out which is good but I think I need to be a little more productive. I did however make some lovely potato and leek soup and I have bolognese sauce and bread on the go.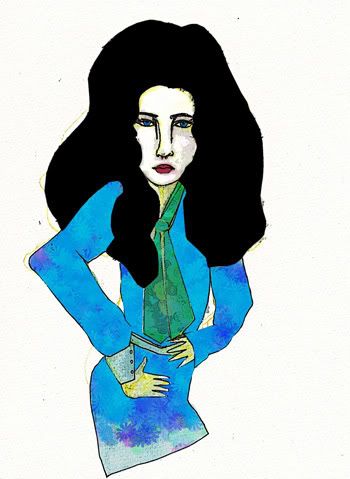 In terms of art, I did some playing around with an artwork from yesterday. You can see the original pen and ink drawing here. I spent a while fixing up the face which looked like she was eating some red plumbs and didn't wipe her face after (due to the lippy smudging). I was thinking I quite like the idea of having a group of printed artworks that come from the same image, but they would all end up being a little bit different. I think the computer version of this is much better than the original and love the darker colours on it.