This is a new badge design I created last week. I decided to add a little more to the head and give one a neck and shoulders. I was quite happy with the results after worrying that the neck would be too thin and not strong enough.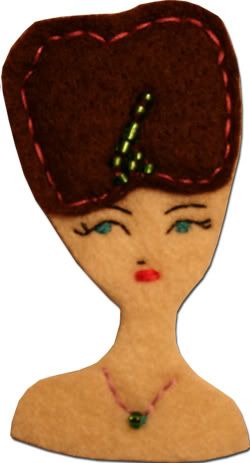 I spend most of the weekend sewing badges and doing monoprints. I did some small ones on atlas paper to put in the packages I send off when people purchase items from me. I also tried doing some collagraphs but the paper I used was too thick so it didn't work out how I wanted. I also get impatient waiting for the PVA to dry and didn't end up printing one.

It is great to sit down and do lots of little artworks and have a functioning studio. I went through a massive void of doing no artwork for a few years. At one stage (when I worked in a call centre) I was so scared by my lack of art making that I was scared to go into Galleries.

The year before I had worked in a call centre in outgoing sales and somehow managed to draw while on the phone and covered my "pod" with little artworks and origami creatures. A coworker, Bec, would make the origami animals and I would decorate them. She once brought me in a pack of markers to help get the job done. I also got tagged as the "arty" one, along with another guy who worked there, so got to spend a week of the phones painting a mural. It wasn't that great as the theme was "telemarketing" but a week off the phones to paint was a dream come true. Unfortunately the latter call centre was incoming calls in customer service and I had no time to do anything but tell people that I had no control over the phone getting cut off when the bill was 60 days overdue. Aaah memories.