So I made these t-shirts for school and in all my stupidity, I spell Ping pong PONGPONG. I was writing it backwards so it would be as long as the dingdong. I managed to do a fix up job by turning the O into a paddle with an i in the middle. (At the moment the i is a photoshop job, I'm waiting for it to dry before I print it)

My "fix up" sort of works. It made me so angry all I could do was laugh and say I'm an idiot over and over again. I don't think I would have even noticed till Gareth told me. The kids would have just laughed and said, oh the impotence of proof reading!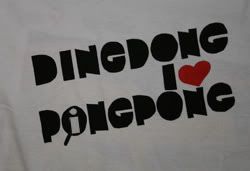 In far more exciting news my little badges are in the Frank Bits in
Frankie
Magazine with some other noteworthy people, including
Made It
,
Liana Kabel
and
Kara Smith
.