I made some wallets with a lovely bright blue fabric I purchased at Job Warehouse last year. I had it cut to make a tote bag, but it was big enough to create three wallets so I decided to make them instead. I screen printed onto one side of the wallet with a dark orange ink and it is a hug contrast against the blue fabric. The lining is orange polka dot fabric and I also did one in a yellow fabric which is available at Kids In Berlin.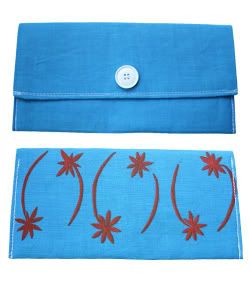 I'm going to be away until the 26th of April on a 9 day camp in East Gippsland. Although I wont be here to answer emails, Gareth, my Distribution Manager will be in charge of shipping off any Etsy orders. He does a good job and likes trips to the post office because he can also go to the bakery for scones and diet coke, unless it is a Friday and he gets pies and sausage rolls. Yummers.
Here is some of the stuff I currently have on Etsy and a chance to play with the Etsy Mini.