Sheeps Clothing is a new Australian Etsy seller. Have a look at her shop, it has very beautiful knitted items including this lovely hair tie. The wool and the colours are impressive and I'm sure as all of us southern hemisphere people head into winter we will all need a pretty scaft and beanie to liven things up.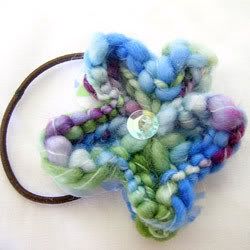 I took some bags, wallets and badges into
Kids In Berlin
today, so stop by and have a look. They have a fantastic range of products available and they are always very friendly.
This is some new artwork I just listed on Etsy. I have been working on it over the last few days. I purchased lots of old books to use in collages from various opshops, mainly old Atlas' and Melways. The bird in this artwork is from a Melways, but I painted over it so much you can't tell and also it was mainly Port Phillip Bay. This artwork is quite dark, especially in the images I scanned. It has a PVA coating so it is smooth and shiny.