I have been getting lots of lovely parcels in the mail of late. I lot of business cards for the market coming up and some lovely items from some swaps I have done.

The first is a lovely scrabble journal from Little Put Books. Ryan had a very smart idea of doing a swap before her birthday so that she would receive a lot of surprises in the mail. I was lucky enough to get this, which arrived today: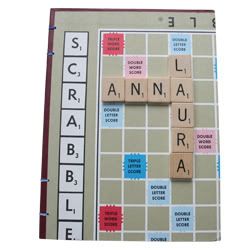 I also did a swap with
Uschi
, who is an artist from The Netherlands. I got this lovely painting, which arrived yesterday.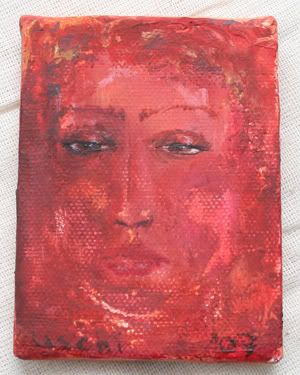 I also ordered some stamps from
Dial A Stamp
in Brunswick. I got a wildebeest and some text with my URL. I am really happy with them and have been stamping all sorts of things. They are so handy for making quick business cards or swing tags or stickers. I need to get some colourful stamp pads because I only have blue at the moment. I think I might end up with a stamp addiction because I am thinking of all the possibilities.
This is what they look like: