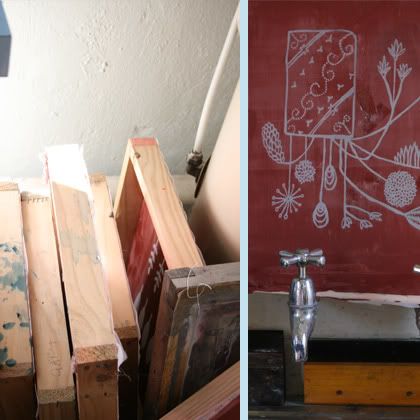 Over the last three years that I have been screenprinting I've had a lot of people ask me how I go about it. I think if people saw my set up they would be quite surprised because you don't need much room to do it and it isn't that expensive to set up.
I've started thinking about running lessons for people who are interested in learning more about screenprinting and setting themselves up to screenprint at home. The type of screenprinting would be handcut paper stencils and printing with drawing fluid and screenfiller (which creates a permanent screen). It wouldn't be creating a screenprint using the emulsion technique.
Some things I would like to do with the class is:
Have it really small, with a maximum of 6 people

Set it up so you leave the class with two screens, a permanent one using the screen filler technique and another blank screen you can reuse with paper stencils.
Have different items to print on such as fabric, calico tote bags and canvas frames for stretching screenprinted artwork onto.
Some kind of tech support after the course is finished if you're having issues with printing.

The option to purchase a kit with inks/squeegee ect to take home after the course.
I would also like to offer a similar holiday course for teenagers (13-16 year olds) with a focus on printing onto clothing and bags to create a little brand name for themselves.
Having taught teenagers, I know a few would be interested in taking some ownership over the clothes they wear and having the chance to wear their own designs or give printed shirts to friends as gifts.
So what I want to know is there people in Melbourne who would be interested in doing this kind of course? Any feedback would be really helpful as I've got super excited about the idea, but realise that maybe people might not be interested.