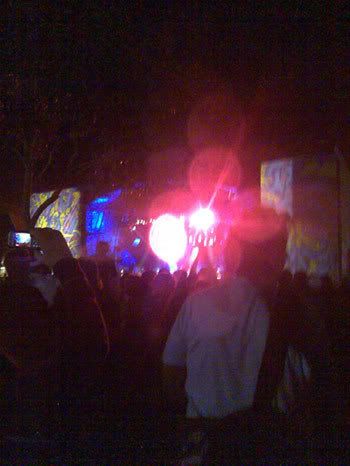 Thanks for all the great comments on the last tutorial post, I was worried it might not make sense and be a little confusing. If anyone has any results from printing using the drawing fluid I would love to see them.
I had a great long weekend, spending Monday at the Big Day Out. Thankgod the current heatwave came a day later, as the 28 degrees was enough for me. Standing in the sun for long periods of time is something I don't ever do, and despite drinking about 2 litres of water in 30 minutes I was still feeling a little dizzy and lightheaded. I had never been to the BDO before, so it was all a bit of a novelty, the last festival I went to was Falls in '99. Highlights was TZU, Cut Copy, Neil Young and Mike Patton in cricket whites AND pads.
This Saturday it is meant to be 40 degrees (104 F) and the tin roof at Rose Street always seems to add 10 degrees onto whatever temp it is already.
Bridget
and I are considering wagging, although I'm hoping the cool change comes in Friday night. Cross your fingers people, we don't want to melt.