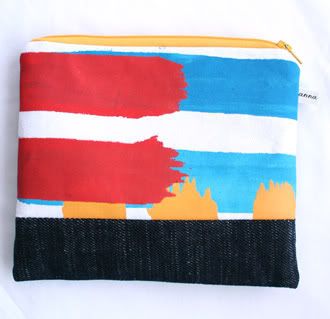 I spent the last few days finishing up two wholesale orders for Little Bird in Elliot, South Australia and Betty Mim in Newcastle. I got some lovely feedback from Kate from Little Bird on Stocklist, my wholesale ordering system created by Gareth. I passed the feedback onto him and he was a little surprised that something he made is easy to use. He must usually be making big beasts of databases because mine is really easy to add and upload to. I just break it when I don't put underscores in things.
I few posts back I said I was a little clueless with naming the new range, some people gave me some great suggestions but the images I had then are different to the ones now. I'm going to put the call out again, because I'm stuck. Everything I suggested to Gareth was silly or stupid and his suggestion had summer in it, and I didn't want to specify a season, even though the colours are quite bright.

I liked the idea of having primary in it, but I'm not too bothered about that, that is just my brain trying to come up with something easy. If someone suggests something that I really like I will send you something in the mail. I don't know what, but I have lots of nice things hanging about, so it wont be an old MX and a half eaten packet of tictacs.
Rose Street is tomorrow and Bridget is back from her overseas jaunt and Hollie and Mikey are back from their 2 week break. Although I had Kitty next to me last week and she was a great next door neighbour, I do miss Hokey on the every second week. Although it is going to be really warm tomorrow so I think my brain might turn to fuzz within the first hour. Last week, and it was after 4 so pretty late in a long day, a lovely lady purchased something from me and I was eating a superdooper (courtesy of Karina). I think I just handed her the bag to put the pouch into as I couldn't figure out where to put it. Yeah, customer service is very high when you're in a room that is not unlike a sauna and your brain is functioning at 10%.