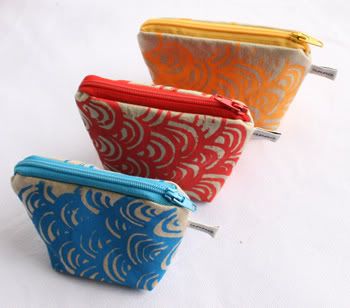 So my post a few days ago showed part of my new range of coin purses and a week or so later and everything has changed. The yellow took over and invited blue along for the ride. I'm not sure if other people love red, yellow and blue together as much as I do, maybe I'm one of the only ones. I just looked through my Year 12 Graphic Communication sketchbook and a lot of the stuff in there was all primary colours as well, so it has been around for a decade at least.
I'm at Rose Street tomorrow and I'm hoping it doesn't rain. Although living in Melbourne you come to expect weird weather like hot mornings, washing your sheets at lunchtime, expecting them to be dry in a few hours time, then having to pull them off the line because it starts

pishing

down. But as that happened today, I am hoping for better luck tomorrow. Oh and thanks to Hokey for the
I love your blog award
and I'll see you bright and early tomorrow at Rose Street. I have so many people,

including

Hokey's

blog, that I love reading, so I should get round to posting them all.