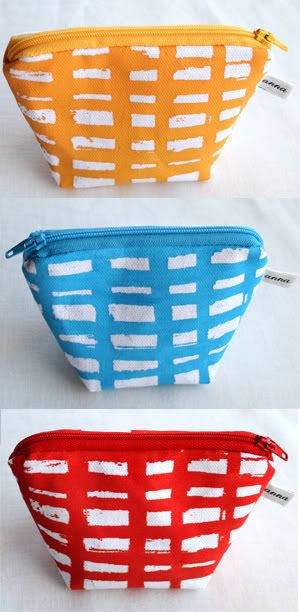 Rose Street is on tomorrow and I have lots of new products, including these coin purses to bring along. The screenprint is another one of my painted designs printed onto white canvas, which is a dream to print on. I've been busy sewing all day today, listening to music and looking forward to tomorrow when I can talk to someone other than Gareth. I think he is the only person I've really spoken to for the last week face to face other than shop keepers. I did speak to our lovely neighbour who mowed our front yard the other day. He knows we have a push mower and the grass was getting to the stage where it would have been a super workout to even get a small area done. I gave him some plonk to say thank you but really don't think it was enough.
Oh and for those of you up to date with Project Runway Season 5 you should get the hog wild reference. Sometimes I forget that they have actual contestants on that show making outfits and all I can remember is the funny things Nina Garcia, Tim Gunn and Michael Kors say and do. Although Tim Gunn is obviously everyone's favourite, including mine, I really am a big fan of Nina and Michael. This week Nina was totally rocking a top that could have been part of a new line of Spring/Summer Starfleet uniforms. I'm looking forward to the finale next week and I think I know who I am going for but I will wait till I see the final collections.
I also wonder how long Anna could get away with speaking in third person before Gareth traded Anna in for a new lady. I suspect it would be hours.