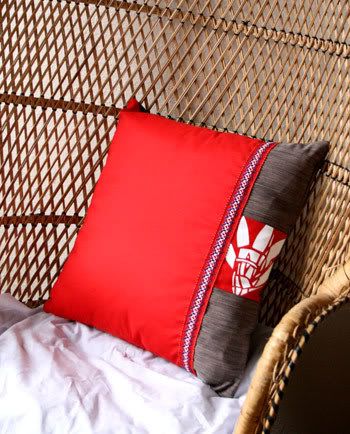 This is a cushion I made using the same brown fabric from the clutch from yesterday. It is like that dual weave I got a few months ago which is no longer available (I shed a tear for it). Gareth suggested I make a cushion like the clutch but I had run out of the trim I used. I did however make a recent purchase over at
Hyena in Petticoats
new shop
so I used that instead. I will be taking it to the markets I have this weekend, and there is a lot of them.
On Friday night I'm going to be at Rose Street for the
My Sister's Wardrobe
event as part of the
State of Design Festival
running in Melbourne. It starts at 6.30pm at runs until 9pm. I'm going to have to rug up even more because it is cold during the day at Rose Street so I'm guessing night time will be a killer.
Saturday is Rose Street as per normal and there is a chance I might get to meet a few girls from the Frankie Forum. Then on Sunday I am going down to Warragul for
A Day Out at Lardner Park
from 9am - 2pm. I'm hoping I get home in time to get the train into the city and visit people at the Melbourne Design Market, it goes until 5pm so I might be cutting it a bit fine but we will see how I get on, I'll probably just crash on the couch and tell Gareth to cook dinner resulting in a takeaway curry.