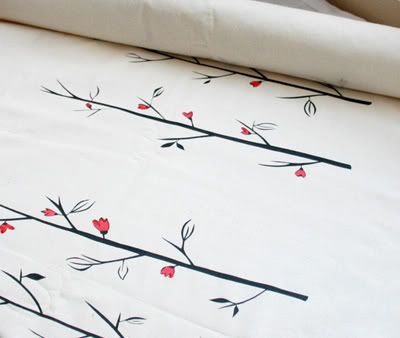 My two new fabric designs have been photographed and are both available on all three of my online shops,
Etsy
,
Dawanda
and
Madeit
. The second one was printed yesterday and took a little longer. Red ink, although I love it, it a lot different to black. It seems to smell more and is a lot thicker and stickier.
The red print is called Flame Flower and came about after a lot of different ideas were drawn on the paper, and even when it was drawn it changed around a bit. Both designs are hand drawn and hand cut from paper and screenprinted by me. If Jane Fonda needs to release a new workout she can do one based on screenprinting as my arms hurt a little from the whole process. Oh and if she needs a sound track I recommend some Santogold, White Williams, Presets and Drapht.