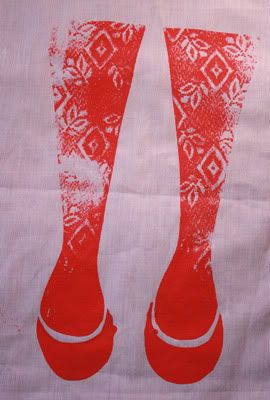 Print One

As you can see it is over inked at the bottom of the print. It seems the lace sucked the ink up a lot, so what I thought was a large amount of ink didn't seem to want to print across the whole screen, so more was added. The top of the right leg looks good, this is what I was hoping for when I started. The lace also creates an interesting texture, the print feels much rougher than normal.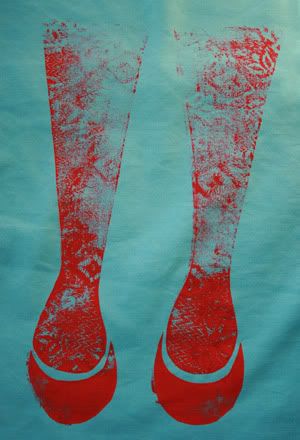 Print Two
This time I didn't put as much ink through and when I lifted the screen there wasn't enough, so I put it down again. You can see the double registration on the left side of the right leg. When I did this print, I put new lace down down as the last one was too ink on the other side.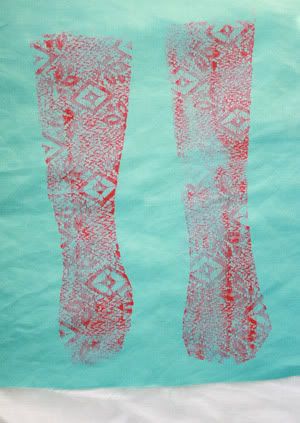 New Techniques
Rather than stop I thought I would start trying different things. This print was created by placing the inky lace directly onto the fabric and pressing down. The results are far more pleasing, but I realised if I wanted to use it an add applique shoes I didn't give myself enough room. I then though I could stitch more fabric onto the bottom, so it looks like the ground. I have some great grey fabric which will work for this.
New Artwork
This artwork was created with the inked lace. I stitched it onto a blank 30cm by 30 cm canvas frame with little red felt shoes and some buttons. This is what the print should have looked like from the start, although I think the red and red might be a little bit too much, but with the stark white it looks okay.
Some things for next time:
1. Use a thicker plastic lace for the print
2. Use the lace I have already printed with. The inky layer might work at repelling the ink a little more so it prints even and doesn't absorb all the ink.
3. Thanks to Emma Rose for the spray paint suggestion, although I'm not sure if you can get fabric spray paint but I like the idea of it and will keep a look out for something like that.