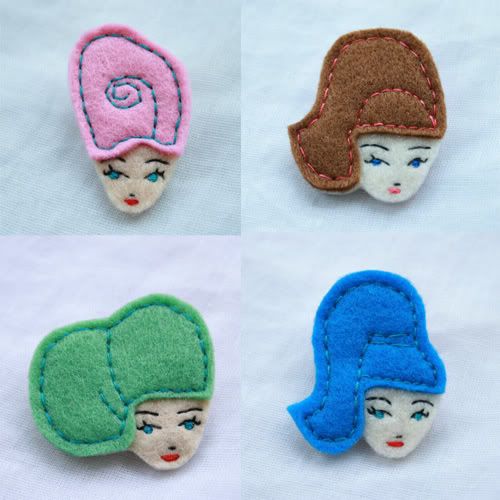 Some new little ladies I photographed this afternoon, these were the ones I fancied the most out of the bunch. I like the pink haired ladied face the best but there is something about the mint green hairstyle that appeals to me. I've done it before, but that little extra line seems to work for me.
I was in East Gippsland for a couple of days and went to Spotlight in Bairnsdale. Now what I am going to say MAY boost Bairnsdale tourism quite a bit, but the Japanese Cosmo Textile Mushroom fabrics were all $6 a metre (Reduced from $20). I thought maybe they were all on sale across all Spotlights but I checked out Spotlight in Sale and it wasn't on special. I'm guessing the Japanese Fabric craze has not hit the country yet or what is going on, but I purchased a nice chuck of it and have to admit I've not seen it in any of the city stores.
If anyone is wondering what to do tomorrow night in Melbourne, a quick reminder that the
Bamakko
screened exhibition is on. The opening is from 6-9pm at 358 Victoria St, North Melbourne.