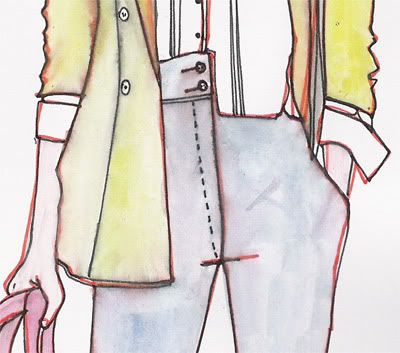 I'm going to go and sew some badges and watch a film in a moment. I've been watching films that I have seen before while I sew the badges. Last week I saw Romancing the Stone and The Truman Show. At the moment Gareth is watching Star Trek and I don't like that show much. Our television aerial isn't working and although it has been three weeks without "normal" television, I have not missed it too much. I don't even know what the new shows are at the moment.

I did catch up with Project Runway and Lost the other night so I am not totally without and I'm feeling the need for a dose of Gordon Ramsey very soon. I need to hear some mindless swearing as I'm no longer around teenagers thus not getting my daily quota.
The image here is a crop of a
larger artwork
. I liked this area of the drawing and the line work so cropped it pretty much as soon as I had scanned it.