This is a tiny coin purse I made last week from an
off cut
from one of my
screen prints
. The main part of the
screen print
was turned into this
orange bird pouch
and I forgot about the
off cut
and put it in my spare fabric box. I sorted through it last year when I took it to school for the students to use and realise I had quite a few
screen prints
which could be used for smaller items. I've been making quite a few
coin purses
, some of them really small and the offcuts of prints are perfect for them and I'm glad I'm using up smaller pieces of fabric.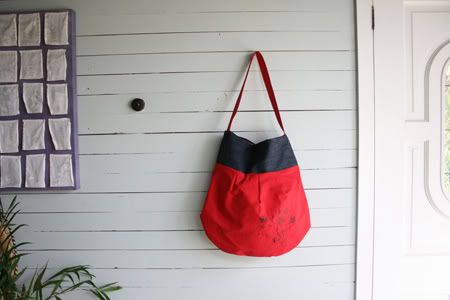 This is my large red
tote bag
I made a few days ago. I often have a lot of trouble photographing bags, as this is the only spot to do it in but it is often really dark. I decided to keep the whole view in this photo as it looks really good with the plant and artwork as well as the door. The artwork is from my final year of Art School in 2001. It has little
mono printed
drawings on old book paper, cut out and places in little muslin pockets and stitched onto the wall. In my third year we had two big exhibitions, one in Melbourne and one back in
Ballarat
. My plan was to exhibit this work and keep my favourite artworks for the final display back at Uni. I was working on a series of ten artworks and I thought they had to all be together, rather than just display a few of them. When I explained this to my art teacher he told me I HAD to exhibit the other works. I'm glad I listened to him, although I am still quite fond of this work.