I did some mono-prints this weekend. I did these ones on fabric and I made up some super strong dyson dyes to colour them in. This red was called Mexican Red and is a little darker than the other reds I have been using. I think I might get some more dyes because they have a great range of colours. I played it safe and got the primary colours.

This is one of the artworks I did, I plan on doing some machine stitching on it, although I don't know what colours to use. White will not stand out enough, black with compete with the black ink and for some reason blue, green and purple just wont work. I was thinking of orange and yellows and just using simple lines that follow what is already there, that was all I could think of as I drove onto the Eastern Freeway today, worried I would end up in the wrong lane. The fabric I used has thermo stuff on the back and I interfaced so it was stronger than normal. It is interesting using fabric but treating it like paper.


This is some of the detail. Like the paper it gets that super fine dotty texture around the line which I really like. You can feel the tiny bumps and it looks like a strange photocopy. Once I have made a print, the plastic I have rolled the ink onto looks really beautiful as the reverse of the image is still there. I might try taking some photos of them against the window.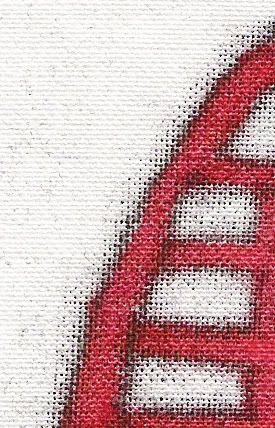 I took some new stock into
Meet Me At Mikes
and
Kids In Berlin
. There is some great stuff in both of those shops and it was nice to touch and feel
Stacey's
knitted beanies. Her colour combo's are spot on, have a look at her most recent post, the pink and white scarf looks stunning.