I just made this bag tonight and I am pretty happy with it: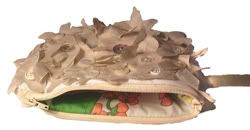 I made a similar bag last year with the thin muslin and don't like it as much, although I only did one side. This one works much better because of the buttons and the flowers are on both sides.

I also purchased some index cards and I think I am in love with them. They also are easy peasy to print onto so now I have something even better to put my bagdes onto.


I am also getting some sticker paper from
here
. Check out her stuff, it is great, particularly this
bag
.