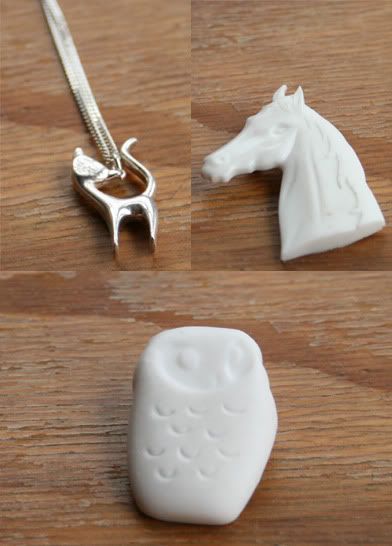 After reading Loobylu's
recent blog post
I realised I am also a bit of a Hot/Not fan. I remember I had a Mode magazine from about 1992 that had a huge one in it, all full of things I did not understand, but I tried to pretend I did. I'm going to call my list Yay and Nay rather than Hot or Not, just because I'm using the word
Yaysies
so much I even have Gareth saying it.
Finding my kitten necklace Hollie gave me from my birthday. It's from
Corky St. Clair
and I put it in a safe place, so safe I couldn't find it for 6 months. But it is back!
New brooches. The porcelain owl is from
Dani M Designs
and the resin horse is from
Hokey
. I also have a new Featherstitch Fantail brooches from
Bridget
, a custom design of a Magpie that I can wear to the football and look like a Collingwood supporter without having to deck myself out in
black and white and gold
.
The Black Apple's Brownie recipe
. I made it the other night and it is one of the best recipes I've found. You don't need chocolate, just cocoa (chocolate isn't something that just sits around in the house is it?) and you can mix it all up in a saucepan. I'm pretty sure the recipe can be adapted as well, to make it vegan (use noegg and vegan spread instead of butter/eggs), glutan free or low fat (adding apple sauce instead of butter).
Friends leaving to go overseas
, although it is more of a reason to get over to Europe next year and escape the winter here.
Finding someone to go to
Animal Collective
with in December at The Forum. I'm putting it out there, who wants to be my date?
Bride Wars. You know when you know a film is going to be bad, but you think it might turn full circle and still entertain you? This isn't one of those films, it is honestly the worst film I've seen. I don't understand who would enjoy it, it makes shallow romantic girl films seem deep and arty. If you were ever thinking of renting it I am here to save you 90 minutes of your life, plus the hours you will spend afterwards thinking of ways the money to make the film could be better spent.