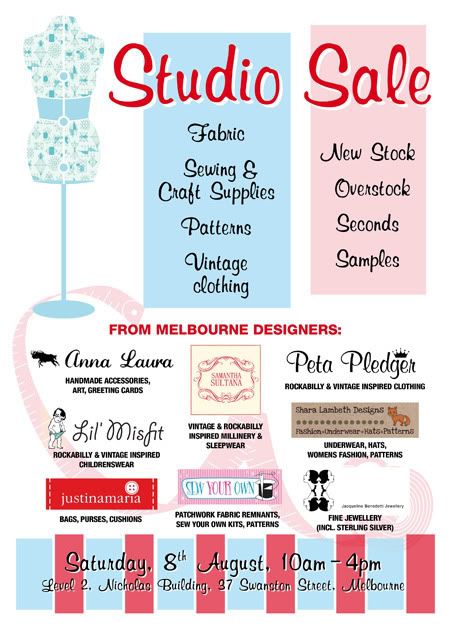 The last month has gone by so quickly I didn't realise it had been over a month since I had updated this blog! I also didn't realise our Studio Sale was less than two weeks away. The first one, organised by
Peta Pledger
, was a real success with lots of people coming by. This one will be even better with more people having stalls. I will be selling
Able and Game
cards as well as reduced Anna Laura stock, plus some fabric and notions. If you're the type of person who gets organised with Christmas shopping early then this sale will be perfect as you will get some bargains that are handmade in Melbourne!
Details
What:

Studio Sale with Samantha Sultana, Peta Pledger, Shara Lambeth, Sew Your Own, Anna Laura, Lil' Misfit, Justina Maria and Jacqueline Benedetti Jewellery.
When:

Saturday 8th August from 10am-4pm
Where:

Level 2, Nicholas Building, 37 Swanston Street Melbourne (Next to Buttonmania)
If you want to post the flyer on your blog to help promote the sale please feel free to use the one above.