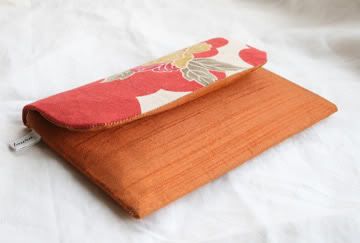 This is second clutch I've
put up on Etsy
, this one uses more of the burnt orange fabric and some lovely Japanese floral fabric from
Amitie
. I'm quite fond of this colour combination, the inside is a greyish blue fabric which
looks good with
the orange.
The artwork below came from a sudden Marie Antoinette inspiration. Although that only came about after I draw all the hair piled on her hair and it reminded me of her. The A5 print is
available
in the Able and Game Etsy shop and there is now a little collection of
A5 prints available
. If you like
Able and Game
cards you can become a
fan on Facebook
, or you can channel your early '90s cool and become a fan of
The Fresh Prince
.