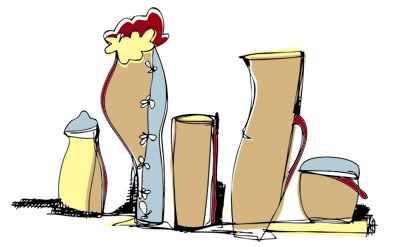 When I was in high school I had a slight obsession with Brett Whiteley. In Year 11 and 12 I had his

ultramarine blue book

out on loan for the whole two years during my VCE. My Mum ended up buying me a copy, I think out of

embarrassment

as she worked at the school and was worried the librarians might growl at her. Mum and I went down to the big

exhibition

he had in 1996 or 1997 at the

NGV

with Turner on at the same time. I spent the whole 3 hour train trip looking at the book, excited to see them for real. I pulled the book out today and did this drawing from one of his still

life's

from the 70s. I'm a sucker for

linework

and he is the king of the line.
I'm wondering if I should make a little range of cards for
Able and Game
with some still life drawings like the one above?