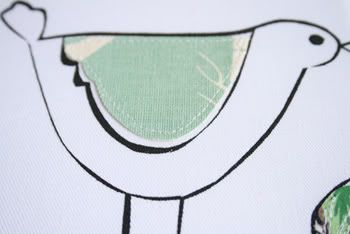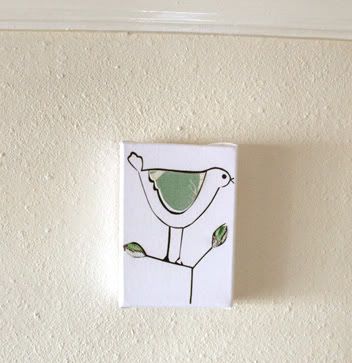 Here is the second artwork I've listed on Etsy. It is the same size as the one from yesterday but this one is a screenprint of a bird. The stencil was handcut from paper and I added some applique detail with some of
Lara's Birch Fabric
and another floral fabric for the leaves. I've
listed this one on Etsy
as well, and have some more I finished yesterday to list online.
If you're in Melbourne I will be taking them to the markets with me. On Saturday I will be at
Rose Street
and Sunday at the Maker's Market at Abbottsford Convent.


I found the design process with making these really a bit difficult. The 7 by 5 inch size of the frames isn't huge, so you don't have a lot to work with. I had an idea in my head of what they would look like but as I started to design them these ideas didn't seem to be appearing. I think I have a love hate relationship with my design process, something I discovered again while drawing all the Able and Game cards. I seem to only focus on what I cannot do rather than what I can and don't play to my strengths, instead trying to achieve something I find very difficult to create. I am sure everyone feels like this, I know I have long chats with my friend in London who is writing scripts and she feels the same. It is hard work and when people say how great it must be to be creative all day I usually say it is really good, but it is also hard work.