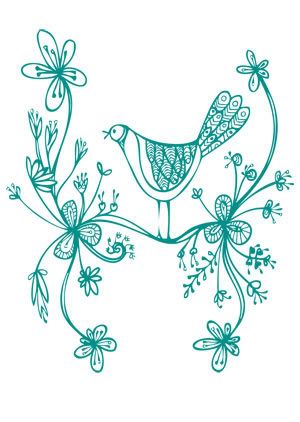 I went along to
Bec
and
Scarlett's
Valentine's exhibition Sugar and Spice at 696 in Brunswick on Saturday night. It was a lovely evening and Gareth and I sat outside sipping champagne (he had beer) with
Hollie, Mikey
and
Liss
, as well as the artists and a little boy who had about 10

chupa chups

and was high on sugar. I think all the girls have lovely pics of the food, people, art and poems on their blogs, I forgot to take my camera and the only picture I have is Gareth with fake teeth in his mouth taken on his phone.
Simple things thrill us, and I think those fake teeth will never cease to provide laughs.
The above drawing was done today for a range of cards for
Able and Game.
I'm in the middle of doing all the
Mother's Day cards
and wanted a bit of a change. I think I will do a small range of about 6 different drawings of flowers and birds. I'm not sure when you would need to give such a card, but I'm often wanting something pretty but not attached to any occasion to give people quite often, so I am sure there is a need there somewhere.