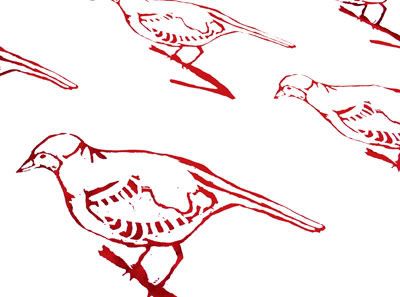 This is some of the yardage I printed up the other day. When I say yardage it is probably just over a yard. I just wanted to see how it looked in a repeat without going marathon and doing 10 meters. I'm not sure if I like the white fabric, although the red on white is one of my favourites, but I'm one of those people who don't deal with while very well. It quickly turns to off white or grey if it is something that I need to use on a regular basis. However I am sure there are people out there who can deal with white much better than I can.
I have to send out a big thanks to Erin from
Design for Mankind
. Not only is she really friendly, but she featured me on her Dailies section. You can see my pretty green and pink floral couch, which Gareth loathes, with him sitting in it on his computer as well as other things I did and ate during the day, I think there is more food than anything else!
Today I'm having arvo tea with Stacey from
Sheep's Clothing
. I did a screenprint on a top for her (which I hope she ends up liking....) which I need to give her and it is nice to meet up with people when your social life often involves a keyboard and the lady at the post office. Plus I'm a big fan of her blog, which gets quoated in
The Green Guide
. Rose Street is tomorrow so pop on by, Bridget is back this week which is good!