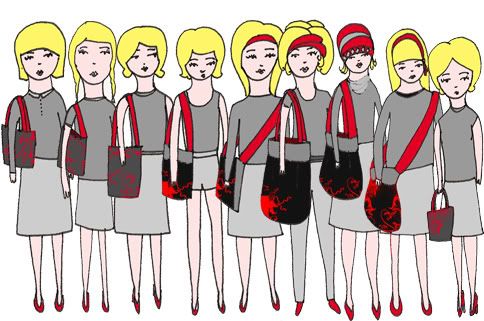 I drew these ladies to show how the straps on my bags work for the wholesale ordering system on my website. I thought I would share them on my blog as they look nice lined up together and they probably wont get a chance to be seen again. I've got a grey and red colour scheme for the site so I thought I would work with those coloured when colouring the images in. They look a little badge ladyesque with some interesting hairstyles, the lady with the biggest bag has some kind of mountain range going on.
I've started blogging on the
Made It blog
with
Aussie Patches
, which is an exciting opportunity and also a little intimidating. I have come up with a few ideas for things I can include starting with Sketchbook Sneakpeak, where the artists, designers and crafters on
Made It
share some pages from their sketchbooks. I'm looking forward to doing this as I love to see how ideas started and all the other little things that often just stay inside the journal and don't get seen. The first one will be going up tomorrow so pop over and take a look.