This is a new artwork I created. The background image is from an atlas I purchased from a local opshop, it's a satellite image from Queensland. I also used some sections of drawings I created with grey ink and a quill and two blue and green paint chips. It is currently available in my shop

The whole thing: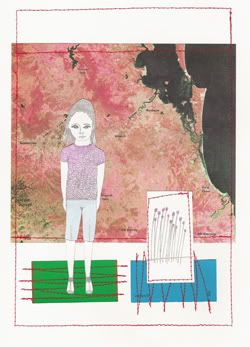 I have been making some new badge ladies today while sitting and watching
90's teen films
on Channel 7. Holidays are lovely.
Also, thank you to the lovely
Modish
for mentioning me in her blog. It's the first time I have had a write up in a design blog, so I was really touched.