My sister Eliza has a new shop on Etsy. It's called Plump and features PMC pendants.

This is one of her Pendants featuring "The Wave" by Katsushika Hokusai and the pendants come with silver chains.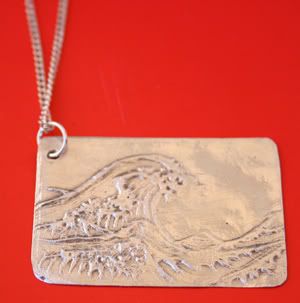 I took some photos of the City, from Victoria Street in North Melbourne when I was taking stuff to Kids In Berlin. I thought I might turn them into more silhouette two colour images with the blue and orange. Gareth suggested I do a white and dark green one, and I had a play around with a few other colours. I love the shapes the tram wires create against the sky.