I'm hoping to start listing some artwork on Etsy soon and I have been doing some drawings and paintings. I seem to get stuck in a trap where I don't like what I make. I find that as soon as I start drawing on the "good paper" it looks rubbish, but when I am just doing stuff in my sketchbook it is random and interesting.
Here is one I am somewhat happy with. I scanned it and coloured it using photoshop. Normally when I do that the fill tool leaves a thin white line between the colour and the border, but this time is was much cleaner. I liked being able to play with the colours and try different things, particularly with the boys uniform. You can see a larger version on my Flickr account.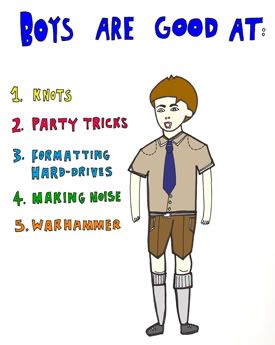 I also just listed a new pouch using a design I have previously used. I got the fabric to mainly use as lining, but realised that it would look great with some screenprints on it.