I took some stuff into Kids In Berlin yesterday. I have 30 little badges, 4 little pouches and four tote bags. I decided to keep this little lady for myself:





I went op-shopping on Friday and found some nice fabric and this lovely trim. I didn't realise how nice it was until I opened it up the next day.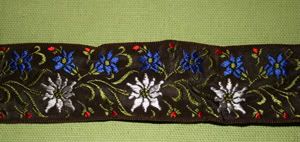 Well now we come to the end of the holidays again. I am not sad or even nervous about going back tomorrow. Maybe that is because we have a inservice day. Maybe it is because I am looking forward to it.