Screen prints and Wildebeests are two things that combine well on a cold Sunday afternoon.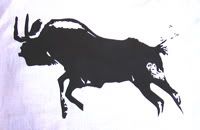 When I went to Kruger National Park I saw many Wildebeest. They were the outcasts because people said they were ugly. They were not part of the exclusive "Big Five" consisting of The Lion, Rhino, Elephant, Leopard and Buffalo.
Some interesting facts about Wildebeest:
-The ladies have buns in the oven for 8.5 months.
-They are called Gnu by the Khoikhoi possibly because it sounds like the grunting noise they make.
- They look like a combination of other animals.